Griff's Goodies Inc., located in Johnstown, PA, was established in March of 2000. We are a made-to-order baking company specializing in wedding cakes, classic specialty cakes, all occasion cakes, pastries, and cookies.
Our "Goodies" are produced by call in orders or appointments only. Everything we make is baked fresh to order using only the best ingredients. Currently, we are not shipping our products.
As professional chefs we strive to produce a quality product for you, the customer, and exceed your expectations! To learn more about how we can help make your wedding or special occasion a day to remember, contact us and we'll schedule a free consultation.
Stephanie and Dale Griffith
Both chefs Stephanie and Dale Griffith are originally from Johnstown, PA and both have over 20 years industry experience. They received their formal training at Pennsylvania Culinary under the tutelage of Master Chef Dieter Kiesseling. Stephanie, a former Pennsylvania Culinary Arts Instructor, started her teaching career while earning an MBA from Indiana University of Pennsylvania (IUP).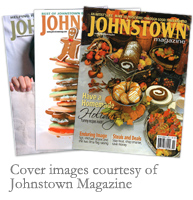 IUP is also where she first began teaching in the Hotel, Restaurant, and Institutional Management program. Her numerous years in the industry revolve around working in private clubs and restaurant, catering establishments, bakeries and teaching at all levels.
Even today, when she finds time, you can find Stephanie teaching demo classes at the Community Arts Center in Johnstown, for individuals who enjoy cooking and baking. Griff's Goodies has also been featured multiple times in Johnstown Magazine.